ASTROX 100 designed with a slimmer shaft and an advanced Rotational Generator System, this new badminton racquet was created for advanced players.
Item Code
: AX100ZZ
Flex
: Extra Stiff
Frame
: HM GRAPHITE + Namd + TUNGSTEN + BLACK MICRO CORE + NANOMETRIC
Shaft
: HM GRAPHITE + Namd
Joint
: NEW Built in T Joint
Weight / Grip Size:
3U (Ave 88g) 4・5・6 、
4U (Ave 83g) 5・6
Stringing Advice
:
4U 20-28lbs,
3U 21-29lbs
Colour
: Dark Navy
Made in Japan
---
INNOVATION
Common technologies throughout the ASTROX 100 series.
1. Expanded Sweet Spot in Modified Frame
Compared to regular round frames, Yonex's original ISOMETRIC frame creates a wider sweet spot. The ASTROX 100 frame has been slightly modified into an even more square-like shape, increasing the already wide sweet spot by 2.9%*1, while maintaining the same overall frame size. Benefits of this evolved ISOMETRIC shape include increased power on strong and continuous shots even if they don't hit the center of the racquet.

Figures are by Yonex

2. Newly Designed Cap: E.B.CAP PLUS
A new structure reduces shaft twisting and increases its flexibility. Thumb fitting shape transmits even more power to the shuttle.
Figures are by Yonex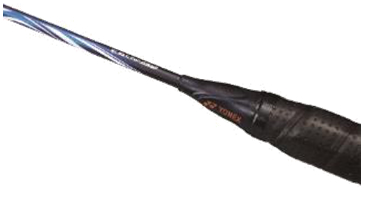 3. Advanced Rotational Generator System
The new innovative Rotational Generator System precisely distributes weight to the top of the frame, joints, and the end of the racquet grip.
In ASTROX 100 ZZ, Black Micro Core material at the top of the frame increases rigidity by 4% and vibration absorption by 2%*1. While the use of Black Micro Core material puts more weight on the head of the frame. A new built-in T-joint, which is 1.3%*1 lighter than any other Yonex racquet, allows the racquet to have a lower weight distribution. By redesigning the racquet's weight distribution in this manner, high rotational power needed for strong continuous smashes is generated.
* Figures are by Yonex

4. Improved Swing-ability and Resilience: Slim Shaft
ASTROX 100 ZZ : Hyper Slim Shaft
Designed with the slimmest shaft in the history of Yonex racquets*1, this ASTROX model, traditionally hollow inside, uses graphite material in the core, resulting in an 11.8%*1 reduction in air resistance. By making the shaft solid, resilience is increased, further allowing strong continuous shots.
ASTROX 100 ZX: Extra Slim and Rexis Shaft
Rexis is a high-performance shaft precisely designed through an advanced molding technique with High-Quality, ingenuitive, Performance Graphite material. It has surpassed Yonex's quality standards.
Figures are by Yonex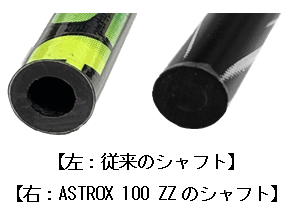 5. Revolutionary New Graphite Namd
By utilizing high quality Namd graphite throughout the shaft and frame of both models more flex is produced with a faster snapback, unleashing dramatic steep power. The material stays flexible even with increased swing speed, bending when swing speed increases and restoring its original hard shape at the end of the swing. The ability to bend even further and snap back rapidly, produces stronger shots and greater smash speeds.

Figures are by Yonex

Specials
See Products On Sale
Featured
See Our Most featured Products
Latest Products
See New Products